FOLIGAIN.P5 (5% MINOXIDIL)
FOLIGAIN.P5 (5% MINOXIDIL)

At a Glance
5% Minoxidil for Men
Minoxidil has been scientifically proven to stop hair loss and regain lost hair.
---
Convenient to Use
Apply 1ml twice daily and get results in as little as 4 months!
---
SRP 1,650.00
3 Bottles of Foligain.P5 for a 3 Month Supply
---
Made in the USA
Formulated in the USA by Anagen Research
---
FREE Courier Delivery
FREE shipping via JRS Express
---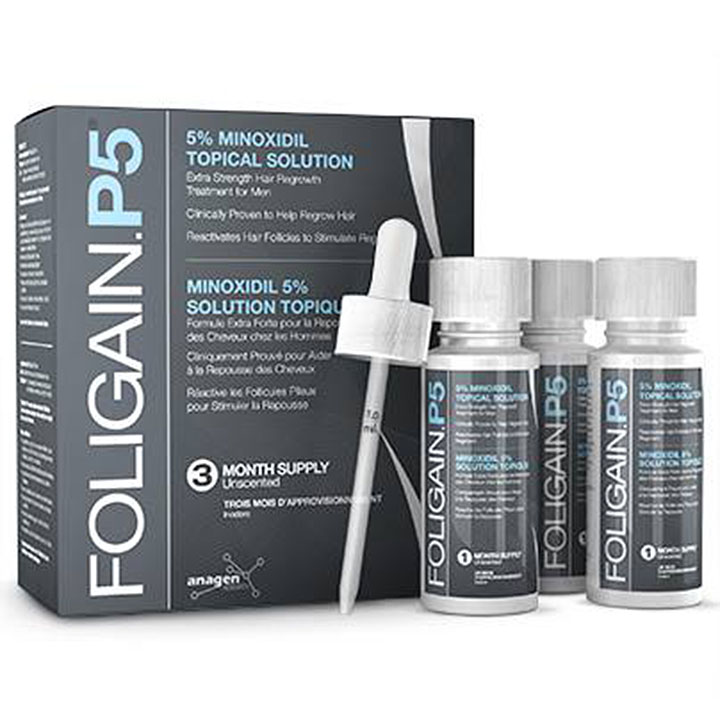 Anagen Research® FOLIGAIN.P5 (5% MINOXIDIL)
(3 Bottles/Pc)
Hair Products | Stops Hair Loss | Promotes Hair Growth
₱ 1,650.00
Dosage
Partition your hair and apply 1 ml two times per day directly onto the scalp in the area of the hair thinning/loss. Spread the liquid evenly over the hair-loss area.
Precaution
For external use only. For use only by men. Flammable - keep away from fire.
UPLift is committed to your well-being. All our products are carefully manufactured under current Good Manufacturing Practices (cGMP)-compliant facilities in the U.S.A. We guarantee 100% customer satisfaction.
FAQs

Foligain.P5 (5% Minoxidil)
User Comments